Bikesburg - A week-long celebration of bicycles in Blacksburg
WEEK-LONG EVENTS
Bicycle themed display of books at the Montgomery Floyd Regional Library, Blacksburg branch - 200 Miller St SW

Bicycle themed art at the Lyric Theatre - 135 College Ave
Get a Bikesburg 2023 passport, visit any participating Blacksburg merchants, and receive a stamp on your passport.
One stamp = one entry in to Bikesburg prize drawings for Downtown Blacksburg gift certificates given out on May 26th.
Submit your passport to dbi@downtownblacksburg.com by end of day May 25th.
Grand prize: $100 Second prize: $50 Third prize: $25
List of participating merchants
Bike racks in Downtown Blacksburg
Friday, May 19: Bike to Work Day
7:30 AM - 9:00 AM
Draper Road Tent
Kick off the Bike to Work Week Challenge in style! Join us on Draper Rd for camaraderie and celebration; coffee and snacks provided by Coffeeholics. Learn how to log your trips/miles for the Bike to Work Week Challenge to win prizes! Be sure to pick up your Bikesburg bicycle passport while you are there; then visit participating businesses by bike around Blacksburg the week of May 19-26 and receive stamps in your passport. Prizes for the Bike to Work Week Challenge awarded at the Rising Silo event on Thursday, May 25th (see details below)
Saturday, May 20: Bike Parade and Bikesburg Festival
10:00 AM – 2:00 PM
College Avenue and Draper Road
Bike Parade:
Bike Bus 9AM (join one of 5 routes to ride with a group to the bike parade departure location)
Parade 10AM – departs from VT Electric Parking Lot, 601 Energy Drive; destination is College Avenue
Downtown Bike Festival:
Join other bicyclists for a bike parade down Main Street to the Bikesburg Festival, which will include bicycle-focused vendors, family activities including story time with Joelle and showing of the Triplets of Belleville at the Lyric Theatre, and more!
Bicycle Festival, College Ave 10AM-2PM, art activities for kids, prizes, vendors and more!
Storytime with Joelle, Lyric Theatre 11AM-12PM
VT Police Bike Rodeo 11AM, 12PM, and 1PM
Triplets of Belleville, Lyric Theatre 2PM-3:30PM
Sunday, May 21: Sustainable Blacksburg Garden Tour
2:00 PM – 5:00 PM (drop-in style)
Tour two gardens by bicycle with Sustainable Blacksburg.
Site 1: 911 Draper Road (corner of Draper and Airport); Site 2: 509 Monte Vista Drive (off Airport Rd)
Sunday, May 21: Bicycling with Butterflies book discussion at Blacksburg Books
7:00 PM
Blacksburg Books, 401 South Main Street, Suite 106
Monday, May 22: Social Ride with the NRVBA
Starts at 5:30 PM
Meet up at the Blacksburg Library, 200 Miller Street SW
Join NRVBA at for a social ride that will end at First and Main. Stay for a casual meal with friends at one of the many great restaurants at this destination!
Tuesday, May 23: Bike Yoga w/Venture Out VT
8 AM – 9:30 AM
Start at Venture Out Center - 540 Beamer Way
Join VT Venture Out for a short social ride ending with yoga at the Duck Pond. Click here to register (required). Cost covered by VT Sustainable Transportation.
Wednesday, May 24: Bike Commuting Class – Sustainable Blacksburg May Lunch and Learn Topic
12:00 PM
Blacksburg Library: 200 Miller Street SW
Learn how to be a smarter, safer and more confident bike commuter from Jenn Million, a League of American Bicyclists certified cycling educator and current president of the New River Valley Bicycle Association. All are welcome, whether you're just curious about bike commuting or an experienced rider! After the class, Jenn will lead us on a short ride from the Huckleberry to the Blacksburg Farmers Market. All participants will receive a Blacksburg Farmers Market token to use toward any market purchase.
Wednesday, May 24: Poverty Creek Trails Coalition: Trail Work Session
5:00 PM – 7:00 PM; Pandapas Pond Parking Lot (upper lot next to Route 460), Wed May 24 at 5 pm.
Do you love all the natural surface trails in and around Blacksburg? Believe it or not, these mostly get built and maintained by a group of dedicated community volunteers - and you can be one of them! Join the Poverty Creek Trails Coalition on Wednesday, May 24 at 5 pm for an early evening trail-building session. All equipment (gloves, hardhats, tools) provided.
Click here to register (required)
Thursday, May 25: Social Ride with NRVBA to Rising Silo; Bike to Work Week Challenge Celebration
5:30 PM, meet up at the Blacksburg Library, 200 Miller Street SW for social ride
6:00 PM – 8 PM, Rising Silo Brewery, 2351 Glade Road
Join the NRVBA and ride together to Rising Silo Brewery for the Bike to Work Week Challenge awards ceremony and celebration. A bike obstacle course for kids will be set up on the grounds of the farm!
Friday, May 26: Bike Gear Swap at First and Main
1:00 PM
Come swap your gently used bicycle gear with local riders and then enjoy a meal together afterwards at Avellino's!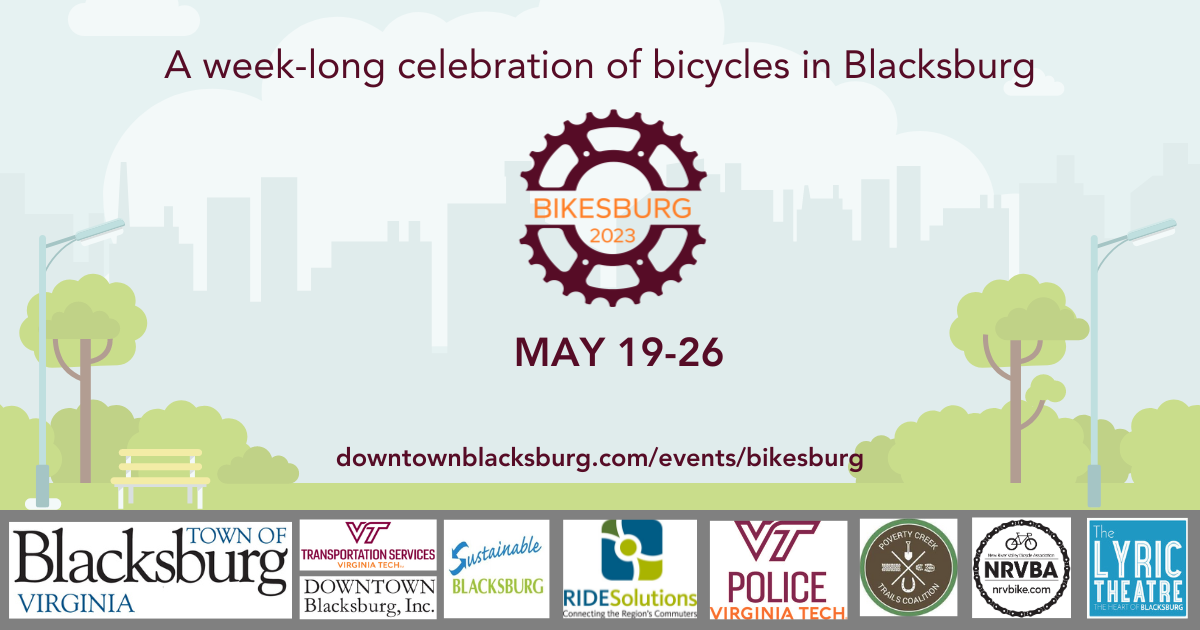 Info
There are no articles in this category. If subcategories display on this page, they may have articles.